Qualified Muswellbrook skincare therapists, peaceful salon environment
Breathe Skin Body Mind is a beautiful space, thoughtfully designed to maximise your privacy and enhance your treatment experience. You'll have the chance to completely switch off from the outside world, because you'll be the only client in the salon during your treatment. There's no background chatter, traffic noise or ringing phones, and complete one-on-one attention.
When you arrive at the salon, we have a dedicated parking space and welcoming reception area where you can browse our large range of gorgeous Australian-made skincare products and beauty tools to keep you glowing between treatments. You can always purchase products after your treatment, or any time from our online shop.
Located in Muswellbrook in the Upper Hunter Valley, you'll have the undivided attention of our qualified, caring skincare therapists, in a comfortable, relaxing treatment room.
Treatments designed to make you feel good
When it comes to our choice of treatments, we've intentionally kept our menu carefully curated. We believe in offering effective treatments that our therapists enjoy and doing them really well.
Our facials are gentle, relying on excellent products and the power of massage to give beautiful results. During your facial, we don't leave you alone in the treatment room while your face mask is on. We love to use this quiet time to pamper you a little more with a lovely hand massage. It's these small details that set us apart and keep our clients coming back time and again.
All our treatments can be tailored to suit the different skin needs of women, men and teens and we also love pampering glowing mummas-to-be with safe and gentle pregnancy treatments.
To find an appointment time that suits you, check out our easy online booking system. We're open Monday to Friday by appointment only.
A welcoming space where you can relax and unwind
Breathe Skin Body Mind is a salon focused on more than external beauty, and that's exactly what owner Chelsea Miller strives for. Self-care, relaxation, mindfulness and wellbeing are all abundant in Chelsea's little piece of paradise, which opened in Muswellbrook in 2011.
Her caring team of Muswellbrook skincare therapists create a warm, safe, welcoming space where clients can enjoy quality beauty treatments and completely relax and allow their day-to-day distractions fade away. A place where everyone is worthy of giving themselves time to find the right skin care, to nurture their body and mind and to just breathe.
"Our skin can be a reflection of what's going on mentally, spiritually and internally as well. So, if your skin is playing up on the outside it's time to reflect on what's going on internally. Stress can make our skin react and be more fragile, which might be a hint our body is giving us that we need a bit more relaxation time and to take a bit more care of ourselves."
Chelsea Miller,
BREATHE SKIN BODY MIND
Muswellbrook Chamber of Commerce Finalist 2022
Muswellbrook Chamber of Commerce Finalist 2022
Qualified Skincare Therapists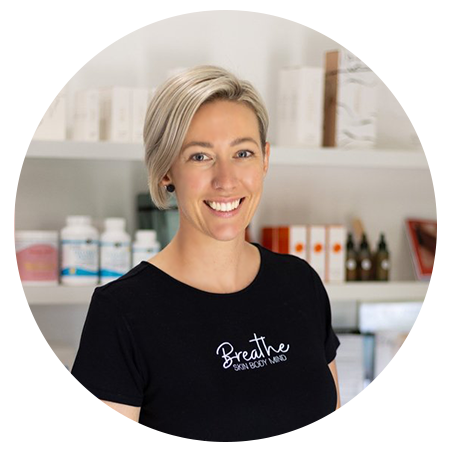 Chelsea
Owner / Skin Therapist
READ MORE +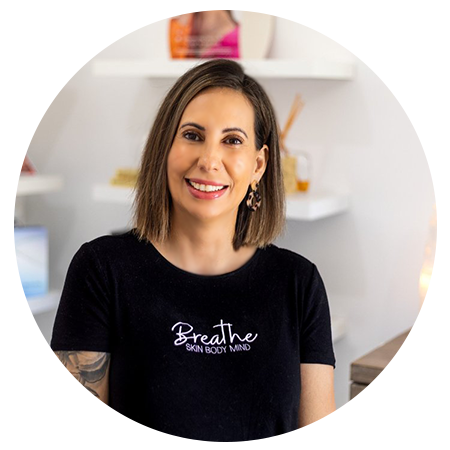 Charissa
Skin Therapist
READ MORE +
Maddy Jane
Registered Cosmetic Nurse
READ MORE +